1. "A Table Portrait, Yerma" play by Gersande Schellinx, 2021, Amsterdam NL
Food and Dinner Scenography

"A Table Portrait, Yerma" by Gersande Schellinx is an idiosyncratic re-writing of Federico Garcia Lorca's play Yerma. An immersive play in three acts and three rooms in which four friends gather for an intimate dinner. Each role is distinguished by their own set of cutlery, napkins etc, in other to fulfil their own personality and movements during the whole evening. The dinner menù was thought and made in order to align with the personality of the chef of the night, Yerma, in who I found many detailed similarities with my grandmother temperament behind the kitchen, Romana. Therefore I re-proposed her simplest and Northern Italian dishes with a visual twist: tramezzini with pumpkin hummus; beetroots crespelle filled with besciamella, sage and pumpkin; chocolate-rice-pops brick dessert.

The dinner party took place in multiple evenings in June 2021 in Amsterdam and eventually the set and some play fragments were shown during the Graduation Show of Gerrit Rietveld Academie, July 2021.

Set Design by Gersande Schellinx, Costumes by Marite Kuus, Music by Oliver Feghali, Joe Eshuis as Videographer and Dariya Trubina as Assistant Director. With help from Dasha Leontieva.






2. Cin Cin Tutti Frutti, 2020, Amsterdam NL
Initiative of ongoing series of Towel Calendars


In collaboration with Italian Designer Francesca Lucchitta. Ongoing series of towels Calendars to have breakfast on, lunch or dinner; to do a pic-nic on the grass; to remind you what day it is; to make plans for a small holiday; to dry plates, crockery or hands; to cover the table; to wrap your bread; to hang as a poster; to bring mandarins to your friend's place. 2021 Mountain Edition has been designed, printed and assembled by Mora e Lampone aka Francesca Lucchitta and me. 2021 edition is currently sold out. Stay tuned on the Instagram page Tutti Frutti for the 2022 edition.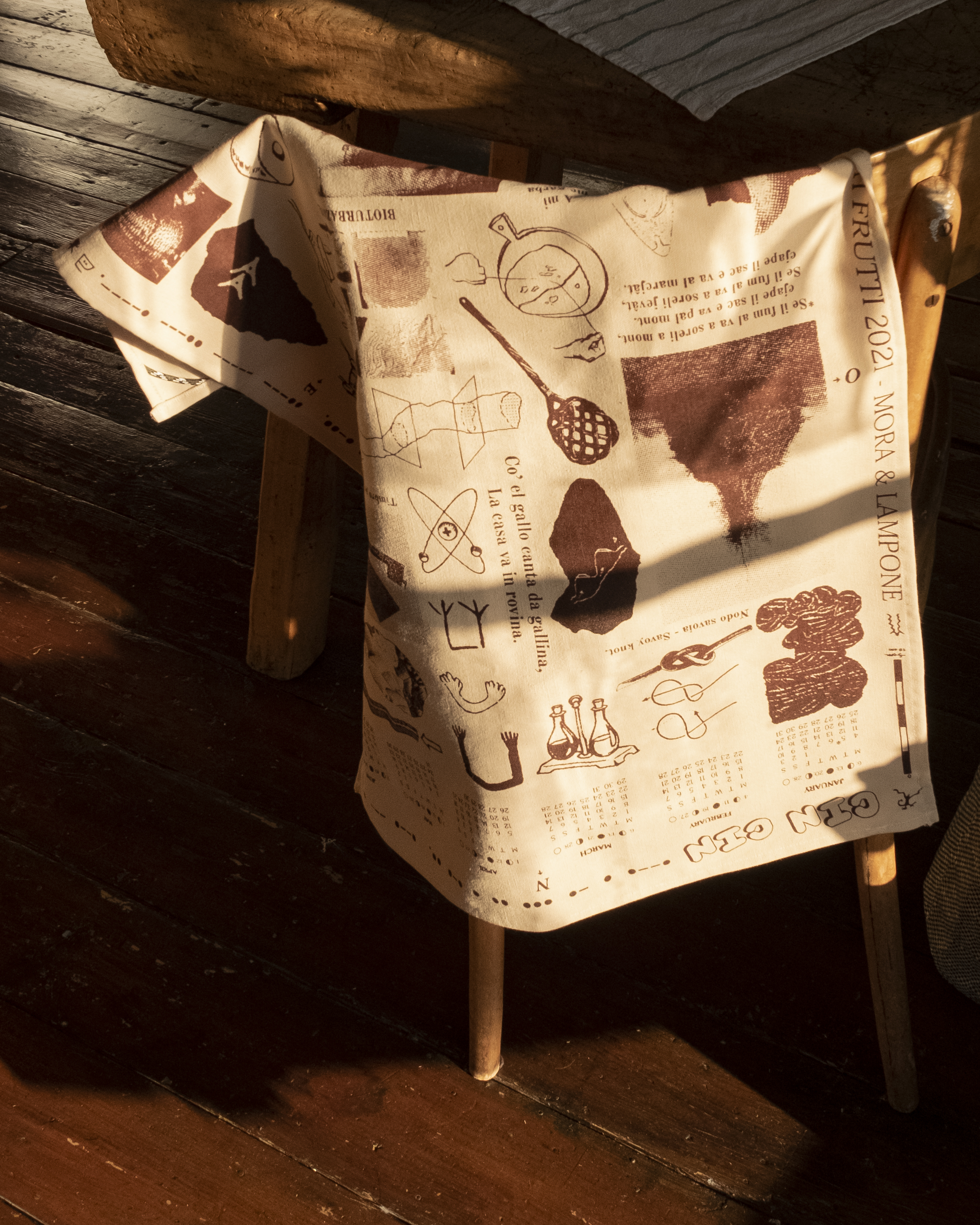 3. Publishing Station (PS), 2020, somewhere between Amsterdam, Venice and Barcelona

Digital platform dedicated to the investigation of podcasts as a medium. Initiated by Marta Oliva and me, designed by MAY.

PS on SoundCloud / PS on Instagram


4. Rietveld&Sandberg Library, 2018-2019, Gerrit Rietveld Academie, Amsterdam NL
Yearly program identity

In collaboration with Graphic Designer Jeanne Vivies. The identity of the Rietveld&Sanberg Library was shaped around the notion of tactility in relation to the way we used the library on daily basis. The posters are based on scans of the velcro changeable board that is used as a green screen in the library to announce new events.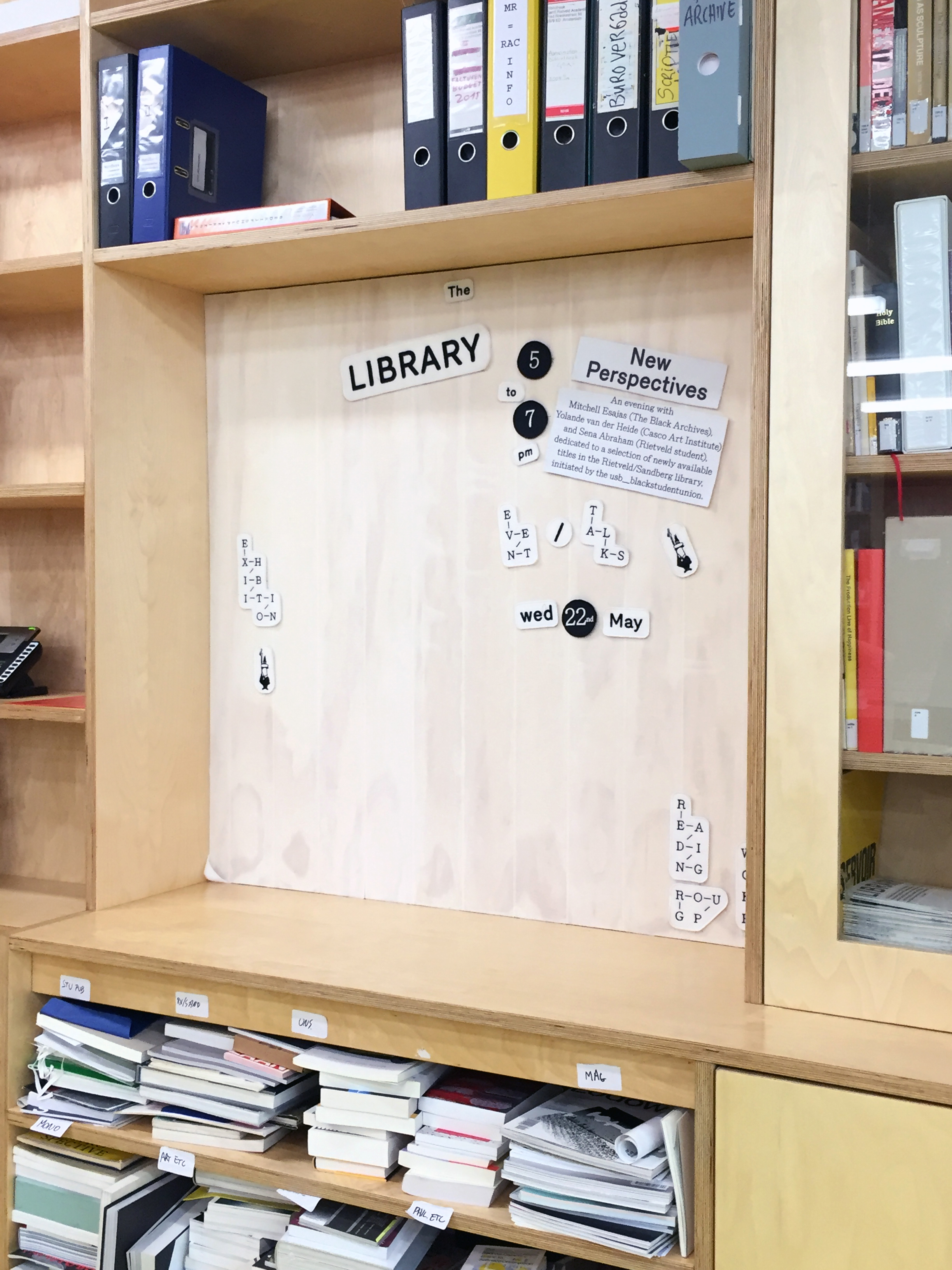 5. Body of Water, 2019, Amsterdam NL
Research, rug making and installation

Keywords: Transmit, Carry, Shared Foundation, Ruin, Water As Medium, Distribution, Sexy Water, Guilty Water, Still Life, Sourdough, Matter And Meaning, Decay, Communal, Leaving Stains.

In collaboration with Nina van Hartskamp, Bronwen Jones, Morta Jonynaite, Matilda Kentta, Kim Lang, Vera Laarakker, Isabel Mooij, Jinyoung Park, Alice Peach, Celeste Perre, Kyra Philippi, Julius Stahlie, Nikki Swarts, Amanda Theilsgaard, Loic Vandam, Rosa Mesquita.


On filling

For exchanging ideas

For taking a physical space to let our thoughts sink in

To sink

To plunge into the unknown

For the mind to wander and to drift through unknown

territories (to ebb and flow)

A space for sharing



Water flows through me, over me in me out of me.

We are all bodies of water.

We are born through it and made by it

This water runs through you and I

We exchange it in our kisses and our cum and through I. the breast of our mothers

We soak in it and drink it up and excrete it out

It is within us and around us, through us

It is a space to share stories no matter the body.

We are made of water, we aren't so different,

how did our histories become so vast, and spread

so wide, like a channel made between two bodies of water

Water cleanses, it washes away our differences,

and makes us one, many bodies of water intertwining

into a great sea

(A sea is a good place to feel small)



Installation view
'Take a Walk on The Wild Side', group exhibition, Stedeljik Museum, Amsterdam, NL



6. Ex Soulmates*, Astrological band, 2017—..., Amsterdam NL
*formed by Marion Ravenwood, Paul from Minnesota and Limo.

Monthly astrological podcasts. Content varies between music selection, poems, interviews about sex and personal stories concerned with the characters of the signs and tarot reading.

Ex Soulmates on Soundcloud




Drawing by Paul from Minnesota - Cover band picture
7.Radio Rietveld, 2016—2019, Gerrit Rietveld Academie, Amsterdam NL
Co-runner

In collaboration with Limo Hair and Loïc Vandam. Our goal was to support any sound based work of our fellow students and teachers and give them a playful platform where they can get visibility.

RR on SoundCloud / RR on Instagram
logo design in collaboration with Graphic Designer Nathalie Golde